Basements are constructed below ground level and are therefore subject to ground water pressure. If insufficient external drainage or a failure in waterproofing, water ingress will result. The following information is designed for practical advice in three situations:
NEW CONSTRUCTION
In Australia we do not have a specific Standard, as such we rely on a Performance Solution which is designed as "Deemed-to- Satisfy". However a useful guideline is the British Standard 8102. The design of the construction can be designed to three grades of Watertightness; Grade 1 – some seepage and damp patches being tolerable; Grade 2 – no water penetration acceptable, but some moisture vapour tolerable; Grade 3 – Total Dry environment. Which every Grade of watertightness the project demands, it is advisable to have multiple strategies of defence. Having a waterproofing expert on your design team prior to construction phase has many advantages.
Most residential projects have a relatively kind environmental impact and the strategy will involve drainage, structural integrity and positive waterproofing. many commercial constructions have far more demanding criteria and strategies need to well thought through in the design phase.   NB: A final tip in basement construction is to allow sufficient ventilation to avoid condensation issues.
Key Products:
Polycloth – reinforcing fabric
FLEXIPRO – Below Ground Waterproofing Membrane
Protection Board
Reference Information:
Principles of Below Ground Waterproofing – BS 8102
REMEDIAL BASEMENT WORKS
In Australia we have so many waterproofing issues with Basements through a variety of reasons including; poor design, lack of guidance for good practice, no guidance under NCC, no Australian Standard, differing expectations of performance between the owner and builder. etc.
Commercial and Residential buildings during construction usually only rely on two strategies – positive tanking membrane system and drainage. When these strategies fail over time water problems in basements become a problem.
Remedial works on ceilings, walls, slabs, pits, need to work with the original waterproofing strategies and develop a multi- defense strategy approach, usually combining positive and negative treatments, plus improved drainage and ventilation.
In most circumstances Remedial Works in Basements do not come with a works warranty or guarantee as the condition of the original building substrate is unknown and the scope of works does not required a Building Permit. In many cases these works would be considered maintenance and repairs and therefore not subject to NCC requirements, falling under the Victorian Building Regulations 2018, Schedule 3, Clause 3 – remedial maintenance and repairs.
We are happy to discuss alternate strategies to remedy problems. Some strategies will 'fix' the problem, others will 'manage' the problem. We can guide customers with practical application tips and product options for each application.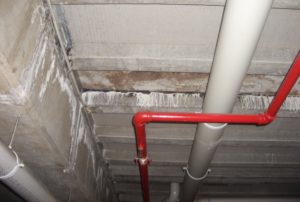 REPAIR WALLS
Existing walls which have moisture or water penetrating internally, require treatment from the 'negative side'. The two most common strategies is to either treat the brick, block, mortar with a crystalline growth treatment to stop the water, or to form a new barrier on the surface. Both methods are valid, but results will vary by situation.
Key Products:
Reference Information:
FLOOR JOINT REPAIR
The most common failure occurs in the floor/wall joint. Depending on circumstances, the water needs to be managed or stopped by repair. To repair from the 'negative side' usually requires mechanical assistance to penetrate the surface. If it is a rising damp issue, form a line barrier through damp coursing. Mortar or cracks can be repaired with crystalline growth treatment. Whilst weaknesses in the slab or wall can be retarded via forming a new barrier on the surface.
Key Products:
Reference Information: